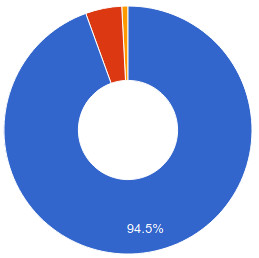 This project is a synthesis of PHP server side scripting, Javascript/jQuery, and HTML/CSS, but on this page we'll cover some of the PHP highlights.
First, have a look at the demo. This is not live data, it displays from a semi-static data set I built that uses no secure keys or data. Play around with it for a bit and see what it does. Resize your window and note there is some animation (see notes below.)
The Scenario
A company hosts hundreds of company sites. A single Google Analytics account records all the stats for them, not individual Analytics accounts. (An admitted lack of foresight, but in place before the company accounts grew.) On each page is a Google Analytics Javascript with a custom dimension, dimension3. This dimension is recorded for every visit to every page.
The goal is to make high level user visits data available to the individual companies. There were no requests for page stats, just overall site visitors stats for visits, device usage, and time of day statistics. Gather the data and present the stats in an interface available only to company administrators.
All graphs (and the demo) have a default start date of one week prior to today. The sessions/users graph is actually two requests, with the blue lines representing sessions/users this week and red lines representing sessions/users the week before last.
The Logic
Pull data from the Google Analytics API parent account and filter the data into a view identified by the value in dimension3 for the individual company only. Mutate the data into the formats required by the Google Visualization API (formerly known as Google Charts,) and present the graphs on the administrative analytics page. This required
The Challenges
The Code and Structure
Notes and Comments
* The demo doesn't actually connect with Google Services to obtain a token. A mock responder is set up to respond with a fake token so I didn't have to rewrite large chunks of working code.